Hey guys! I had recently finished watching the most hyped anime of 2016 aka Yuri!!! on Ice and decided to share my thoughts with you all.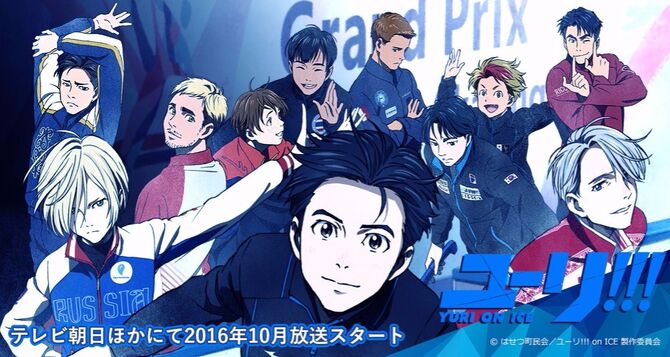 c
First of all, the opening is really good. It is pleasant and sweet sounding and went well with the anime. They did a good job with the ending as well. Both the ending as well as the opening are different from the usual anime openings and endings, and I liked that about them. The animation was great and I loved the use of humour in the story.
I can't say that I found the story to be anything new or extravagant. It's very plain and simple. A typical underdog story. This was my first sports anime so I'm not very well acquainted with the usual plot that follows in them, but the plot of YOI wasn't very captivating. It was however, nicely portrayed.
We don't get to know much about every character in these twelve episodes, but they are all likable. Their backgrounds are only just touched in this season, but I'm sure we'll get to  know more about their lives in the next seasons. The character of Yuri is well implemented. He is extremely relatable and realistic. Can't say the same about Viktor. Although likable, he is very vague. It's hard to understand his feelings and his thought process. Yurio was intriguing and he was my favourite character from the series (he's so cute and grumpy!).
Honestly, I had zero idea about figure skating when I started this anime, and after finishing it I guess it's safe to say that I understand it to some extent. Still, it was hard to appreciate the performances or to relate with the gasps and applauds of the audience. In that way, I wasn't as enraptured by the performances. Also, the performances were the same. Every skater had just two routines that they repeated in every competition. That's another reason why I wasn't able to immerse myself in the story.
Overall the story was entertaining and while I appreciated its implementation, I just wasn't able to get into it as much as I would've liked. Maybe the hype increased my expectations from this anime, or maybe I'm just not used to the plot of sports anime. But whatever the reason, I didn't find it to be interesting enough. It was sweet and nice, but not excellent and overwhelming. I did like the characters, and I have a feeling the story will pick up in the next season, so I'm looking forward to it nonetheless.
I give it a 7 out of 10.
x
What about you guys? 
What are your thoughts on the anime?
Do you agree with the hype?
c