This is a hard one. As I already said I'm usually more invested in supporting characters, especially the female ones. So it's really, really hard to choose a single one. Still, I've tried and narrowed it down to two – Yuri Nakamura from Angel Beats and Kyou Fujibayashi from Clannad. Clannad and Angel Beats always come together, don't they?
Yuri Nakamura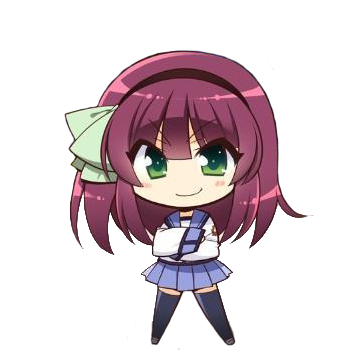 I've always found myself to be inclined more towards the strong and responsible female anime characters, which is the biggest reason why I am going with Yuri. She's brave and bold but also has a soft side to herself. She's smart and decisive, which makes her a perfect leader. She's not only powerful but also witty and has a great presence of mind. I also really like her boldness, tenacity and confidence. I don't think I'll ever be able to accurately describe why I like her so much, but I just do. She's a very likable character.
Kyou Fujibayashi
I've already expressed my inclination towards Tsunderes in my previous posts, and characters like Kyou are the reason I'm partial towards them. Kyou is not only strong willed and audacious, but she's also caring and kind hearted. First of all her love for her sister is so selfless and pure. She's willing to sacrifice her own feelings for her sister's happiness. She is determined and hard working and actually fulfilled her career aspirations. She may be downright cold at times, but she was never conniving or malicious. Basically, she's my favourite character from Clannad along with Fuko, and I really admire her personality and confidence. I had found her character quite intriguing right from the start.
Both Kyou and Yuri are slightly similar as they're both audacious and confident and have well developed personalities. But I personally like both of them individually and equally.
What about you? Who is/are your favourite female anime character(s)?